For Senior Pastors Only: Get Your Copy of the NEW BOOK
The Renegade Pastor For Just $1.00! (free shipping)
Includes TWO FREE months of Nelson's Renegade Pastors Network.
Plus, you'll receive over $1,012.00 in FREE Renegade Pastor resources.
ONLY AVAILABLE TO NEXT 22 SENIOR PASTORS IN U.S. AND CANADA ONLY!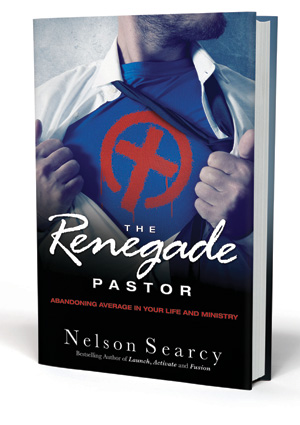 This book is published by Baker Books and retails at $15.99.
YES! Nelson, I'd like to Receive your BRAND NEW The Renegade Pastor: Abandoning Average in Your Life and Ministry Book for just $1 (regularly $19.95!) PLUS Receive TWO FREE MONTHS of The Renegade Pastors Network (additional $198.00 value!)
You will be billed $1 today for the The Renegade Pastor: Abandoning Average in Your Life and Ministry book with FREE Shipping and Handling. You will also receive two free months of the Renegade Pastors Network.
After your 60 day free trial of the Renegade Pastors Network, you will be billed $99 and every 30 days after that. Your statement will show the charge from the Nelson Searcy Company.
Your Renegade Pastor membership subscription is for ONE church. Please do not distribute these resources to any other church, organization, or individual. If you run a network, please contact us about network pricing. All materials are protected by federal copyright laws and cannot be distributed or reproduced without written consent.
If you have any questions about your membership, please email orders@churchleaderinsights.com or call 800-264-5129.
---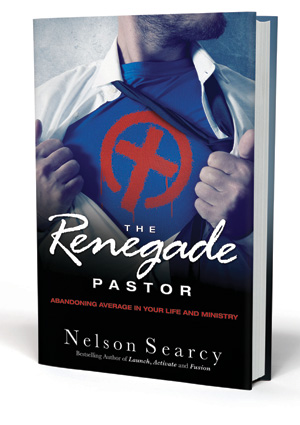 Published by Baker Books retails at $19.95.
Limited Quantities Available - Next 22 Senior Pastors in the US Only:
Nelson Searcy wants to offer his BRAND NEW book "Renegade Pastor - Abandoning Average in Your Life and Ministry" for only $1.00. Nelson is so passionate about the message of the book and helping Pastors abandon average and have greater effectiveness in their life and ministry.
"If you want to grow a healthy church and have a happy personal life, look at what the average pastor is doing and do the opposite." (The Renegade Pastor)
If you are like the majority of pastors, your years of ministry have decreased your passion and increased your frustration. In the midst of life's chaos and the pressures of leading church week after week, "average" may have become your new standard - but you've been called to so much more.
This is not an e-book!
Includes SEVEN packed chapters of nuts and bolts teaching that will help you lead better. This book isn't just INSPIRING it is EQUIPPING you to be more effective - you will actually receive practical tools that you can use right now in your ministry!
CLICK HERE TO ORDER YOUR $1 BOOK NOW!
Drawing from Nelson Searcy's decades of church leadership experience, The Renegade Pastor: Abandoning Average in Your Life and Ministry is a relevant, step-by-step resource that offers profound yet practical insights to help you:
Manage your stress level
Deal with criticism
Control your emotions
Set godly goals
Become a better spouse and parent
Plan with purpose
Personally honor the Sabbath
And more!
Get back to the business of reflecting God's glory in every aspect of your life! Join Nelson Searcy on a mission to abandon average and reclaim a life of impact and excellence. Are you ready to go Renegade?
"Seminary is an important part of a pastor's preparation for ministry, but there are key areas of pastoral life that seminary doesn't address. The Renegade Pastor picks up the loose ends by delving into critical life management issues that every pastor faces. Over the years, I have come to consider Nelson Searcy a friend. I know the man and his work, and I trust both the heart and foundational principles that anchor everything he writes. This book is no exception. If you want to take a step forward in terms of the excellence you bring to your life and ministry, I encourage you to spend some time learning what it means to become a renegade pastor."
- Dr. Elmer Towns
Co-Founder, Vice President, Liberty University 
Dean, School of Religion and Liberty University Baptist Theological Seminary

"Want to be more than just average or mediocre? Then embed into your life the Seven Commitments of a Renegade Pastor that Nelson shares in this book. It could change your life."
- Bill Easum 
President and Senior Consultant with 21st Century Strategies
Nelson is so passionate about the message in this book that not only will you get the book for $1.00 but you will also get a FREE TWO MONTH MEMBERSHIP to his Renegade Pastors Network.
Let Nelson Searcy help you maximize your ministry and fulfill your calling in the NEW Renegade Pastors Network!
The Renegade Pastors Network is a monthly membership program that will help you grow as a leader in life and ministry - to maximize your God-given potential. As a member, Nelson will help you stay one step ahead of the calendar, make the most of your time and resources and fulfill your calling for the sake of the Kingdom.
Together You'll focus on:
Personal and Professional Growth
Church Health and Growth
Advanced Planning
Healthy Church Systems
Becoming a Better Spouse and Parent
Fulfilling Your Calling as a Minister
Stress Management and Emotional Strength
And much more!
Pick up the Renegade Pastor book for just $1.00 and you'll get all of these Renegade Pastor Network Bonus Resources immediately ($813.20 value!):
Improve the Financial Fitness of Your Church ($99.95 value)
The Strategy Seminar ($99.95 value)
From Stress to Rest sermon series ($99.95 value)
Introduction to Church Systems Webinar ($49.95 value)
Fasting For Spiritual Breakthrough ($29.95 value)
The Thursday Midnight Rule ($19.95 value)
What Gets Measured ($19.95 value)
Personal Growth Tips ($19.95 value)
Forgiveness: The Real F Word sermon series ($99.95 value)
Relationship Rescue sermon series ($99.95 value)
Improve the Financial Fitness of Your Church webinar ($49.95 value)
Managing the Stress of Ministry ($29.95 value)
Debt-Free Pastor ($29.95 value)
The Power of a Combined Service ($19.95 value)
The Decision Dilemma ($19.95 value)
Maximizing Summer E-book ($23.95 value)
---
Meet Dr. Nelson Searcy
Nelson Searcy is an experienced church growth strategist, pastor, church planter and coach, serving in ministry for more than 25 years and consulting with churches around the world.
As founder of Church Leader Insights and the Renegade Pastors Network, he has personally trained more than 50,000 church leaders in over 45 denominations through live events, seminars and monthly coaching, helping them break common growth barriers like 125, 250, 500, 1000 and beyond, all while maintaining personal life and ministry balance. For more accelerated growth, pastors also participate in Nelson's systems-based Gold, Platinum and Titanium coaching networks.
Nelson is also the Founding and Lead Pastor of The Journey Church, with locations across New York City and in Boca Raton, FL. Nelson and his church routinely appear on lists such as "The 50 Most Influential Churches" and "The 25 Most Innovative Leaders." He is the author of over 85 church growth resources and 17+ books, including The Renegade Pastor: Abandoning Average in Your Life, Ministry and The Difference Maker: Using Your Everyday Life for Eternal Impact, and The New You: A Guide to Better Physical, Mental, Emotional, and Spiritual Wellness.
Nelson is the recipient of the prestigious Donald A. McGavran Award for Outstanding Leadership in Great Commission Research. His continued mission is to help church leaders around the world cooperate with God in creating healthy, thriving churches. He divides his time between NYC and South Florida. He and his wife, Kelley, have one son, Alexander.